Kate Sayles, Executive Director
Kate joined the Council in 2021 as the new Executive Director. In this role, she will continue the Council's legacy of advocacy work for land conservation and land trusts at the statehouse, and look for new and unique ways to assist land trusts with capacity building and programming that highlight conservation successes across the state.
For the last decade, Kate worked for the Northern RI Conservation District (NRICD) as Agriculture and Forestry Program Manager. In this position, she helped private landowners and small nonprofits solve conservation issues by utilizing funding from the Natural Resources Conservation Service (NRCS), writing grants, creating partnerships and focusing on regional collaborations. Over the years, Kate wore many hats including farm manager at Snake Den Farm, facilitator of the Forestry for RI Birds Program (through the RI Resource Conservation & Development Council), and compost trainer/enthusiast. She also assisted in easement programs and land conservation deals through NRCS and Forest Legacy. Kate is the co-coordinator of the RI Woodland Partnership and in 2019 she co-authored The Value of RI Forests report.
Kate grew up in Rhode Island and graduated from the University of RI with a B.S. in Wildlife and Conservation Biology in 2008.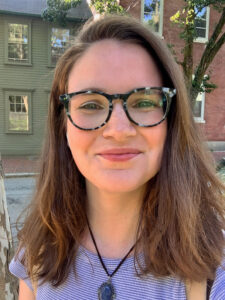 Virginia Streeter, Program Coordinator
Virginia has been working as the Council's Program Coordinator since August 2022. She most recently studied Community Development and Planning at Clark University in Worcester, and has a passion for land use planning, open spaces and the connection between urban and rural communities. Before grad school, Virginia spent several years working for the Institute for Local Self-Reliance in Washington D.C. on their composting initiative. Virginia is the Council's first full-time Program Coordinator.
Victoria Antonucci, Development Associate
Victoria joined the Council in January 2023 as the development associate. She graduated from Simmons University with her Masters in Library Sciences, focusing in archives and records management. Born and raised in Rhode Island, she has worked at several local non-profits and is interested in finding ways to connect Rhode Islanders to their own backyard and local history.